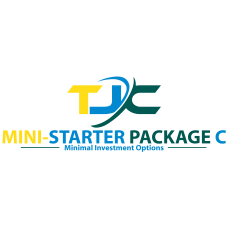 Mini-Starter Package C
Mini-Starter Package C
Product Code:
TJCMSP-03
Availability:
In Stock
This is the BEST Starter Package we offer and is great for small companies or start-up companies that want a "turn Key" solution to get themselves started . Here one of our consultants will come to your location and meet with you about growing your business. We will market to customers in your area in your company name and when we sign contracts you can purchase them for 20% of their annual billing. All you will need to do is visit the customer after we get the contract signed to walk through the facility, pick up keys and alarm code(s). This packages allows you to pay a ONE TIME membership fee and you gain Full access to all of our services plus get all the equipment you will need to get going.
The two forms you will use to submit prospect information to us are attached to this product and are available for immediate download after purchase. These forms are filled out after or during each walk-through and then uploaded in your customer portal.
Here's what you get:
One face-to-face meeting at your location with one of our consultants to sell with or without you for a week
Access to all of our online forms to use in your business
Phone support and consulting to answer any questions you may have whenever you need it
Logo design and branding
Domain registration
Website creation in Bootstrap, fully responsive and SEO (Search Engine Optimization) gets you found on Google, Yahoo, AOL, etc.
1 year of hosting
Unlimited email accounts to use however you wish
Purchase accounts one at a time for 20% of their annual billing
500 full color Business Cards
1000 full color tri-fold brochures
Full access to our "How To" section
We will review and assist you with any proposals for customers that you are working with or bidding
30 janitorial appointments in your area - Then UNLIMITED appointments are filled in
Heres what supplies and equipment you get:
Sanitaire Backpack Vacuum (a huge time saver)
Sanitaire Upright Vacuum
Mop, Mop Head and Bucket
Brute With Dolly
Brute Lid
Bra for the Brute to hold all your supplies (yellow)
Full Chemical Setup (way too much to list will cover any cleaning task)
Feather Duster, Rags and Brushes
18" Low Speed Floor Scrubber (for stripping floors and bonnet cleaning carpets)
Floor Scrubber Pads (one of each color)
12 Gallon Wet and Dry Vacuum (to remove wax and floor stripper)
One Case of Small and One case of Large Trash Liners
All items will be shipped directly to your door FREE of charge with-in 10 days of purchasing this package
With this package their is absolutely NO RISK and we GUARANTEE results! This packages requires a minimal investment and gives you a virtually endless supply of resources to grow your business.
It doesn't get any better than this!