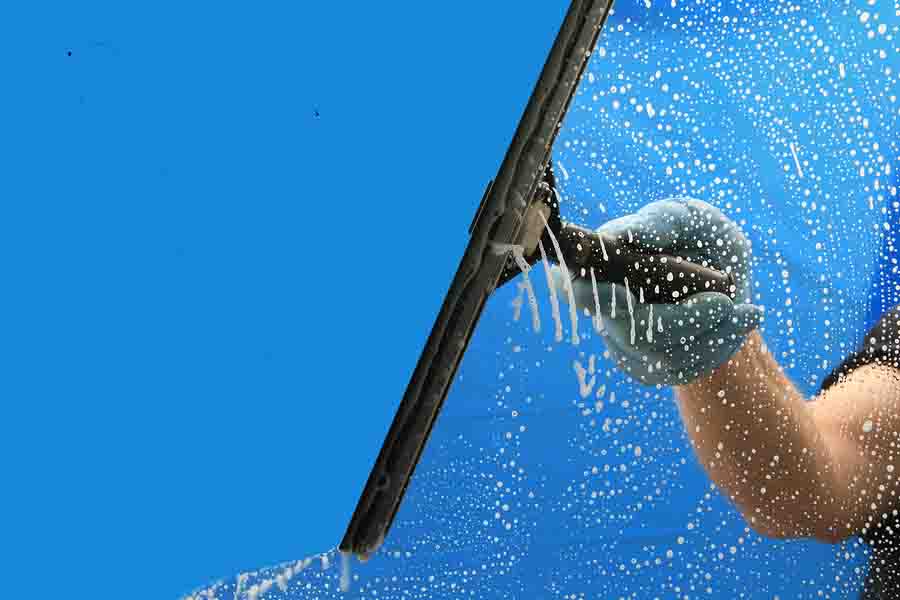 Required Supplies & Equipment:
· Window Cleaning Detergent
· Pump Up Chemical Sprayer
· Window Brush or Strip Washer
· Window Cleaner's Bucket
· Chamois
· Squeegee
· Scraper
· Clean Wipers or Rags
1. Preparation - Assemble all necessary supplies and take them to the windows that need to be washed. For windows higher up on a multi-story building, one of our window washing carts may be the optimum alternative, compared to using ladders or powered lifts. This eliminates the risk of a accident happening on the job.

2. Window Cleaning - Mix your window cleaning solution in the bucket.

Apply solution to the window evenly with a window brush or pump up chemical sprayer. Be sure to cover the area completely.

Start to squeegee the window by placing the squeegee at the top and glide the squeegee to the corner of the window. Glide the squeegee downward to the corner of the window. Use a consistent, even pressure on the squeegee all the way down to the bottom corner of the window.

Wipe off the squeegee with a rag or chamois and begin at the top of the window again. Slant the squeegee downward on the dry, clean side of the glass. Continue all the way down the glass to the bottom of the window. Repeat this until the window is cleaned completely.

When you finish the window, wipe the sills clean and dry with wipers or rags.

3. Clean Up - Wash out the bucket and dry it. Wash out chamois with clean water and hang up to air dry. Wash rags. Rinse squeegees and wipe them dry. Store squeegees in a cool, dry place. Do not store squeegees on their blades.